News, 2017 - 2018
September 18, 2017
School resumes today, after having been closed exactly one week. We are now in Week 4 instead of Week 5.
September 10, 2017 
Hurricane Irma roared through the length of Florida, passing within 30 miles of our school house on Sunday night. Irma left about half the state without electricity, and our school was no exception, so school is cancelled until further notice.
We thank God that none of our school families were badly injured or suffered major damage in the storm. 
Click here for a video to see the school grounds.
September 5, 2017
Kindergarten began their trek through years of school life today, showing up with cheerful, nervous smiles, wearing their game face as they walked intrepidly through the imposing doors of the school house. All four of them, Derek B., Brantley D., Jordan S., and Bryson B. showed huge courage in this first scary step - and their moms were very brave, too.
These young men soon had their things put away in their desks, and then the bell rang, and it was time! They were in good hands with Miss Rita; she guided them through the day from study time to break time to lunch time, and it was great! Check it out right here.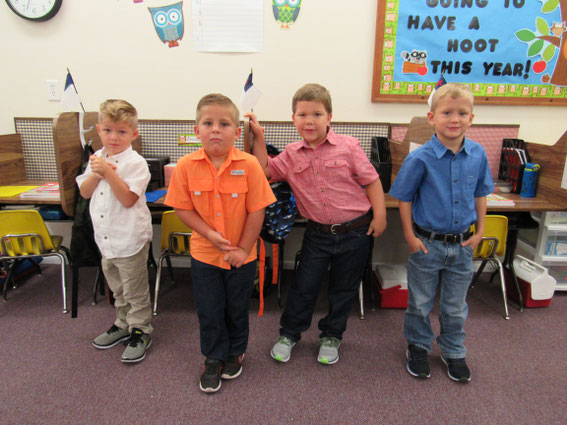 August 31, 2017
We close out the month of August by introducing you to our friend Nicolas.
He was quietly waiting in the grass behind the school house when the younger students came out to play. Kara Y. spotted him, and called everyone else over to meet him. Then Bentley K. was sent to get the Principal, who came out and picked Nicolas up out of the grass. After everyone had a turn admiring him, Nicolas went into the older students' classroom, where he "hung out" for the rest of the morning.
After a delicious lunch (click here for more info) the students hiked to the back of the property and released Nicolas along the fence row. We were all sad to see him go.
Nicolas is a non-venomous South Florida Yellow Rat snake (Elaphe obsoleta quadrivittata)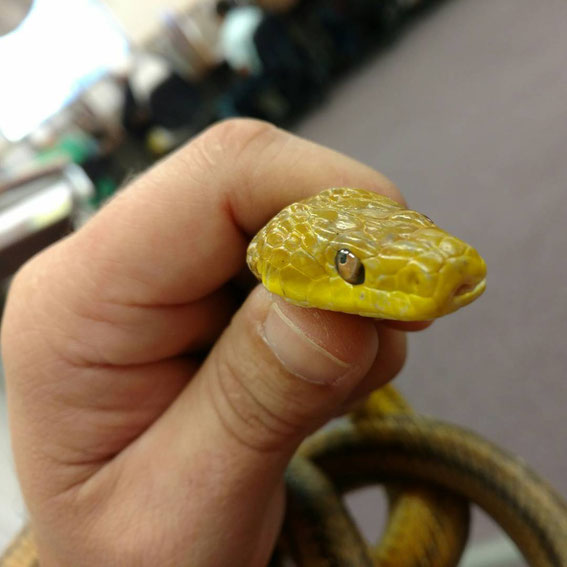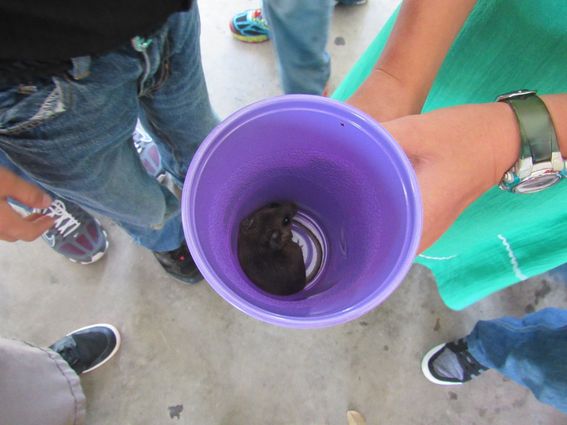 August 21, 2017
The world did not end today, in spite of the Great Solar Eclipse. Watching the moon move across the face of the sun was a fascinating experience, an opportunity that doesn't come around very frequently. 
After lunch break, we all went outside with our special, certified, solar-viewing glasses (not pictured below) and watched the beginning, as the edge of the sun flattened where the moon was interfering. Slowly, much too slowly for the students, the moon glided between us and the sun, until about 78% of the sun's face was hidden. We wished for more shade but enjoyed the relief from the blazing heat. The high point was at 2:50pm, after which two things happened simultaneously: the moon began revealing more of the sun, and students began leaving for home. The excitement was over, but totally worth it; we will remember this for a very long time.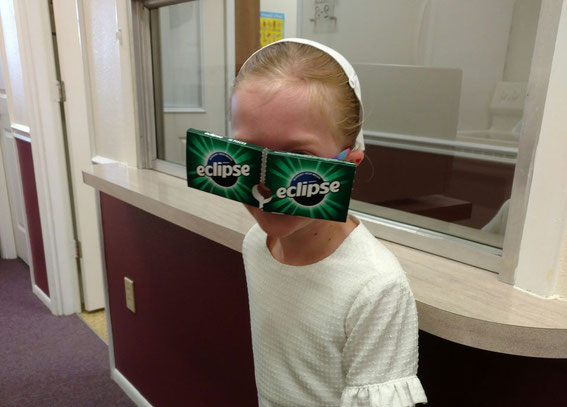 August 16, 2017 
Students arrived with backpacks, office chairs, and smiles, gamely marching into the school house to face a new school term. They were rather quiet on the first day, but did a great job of settling into the old habits of classroom procedures. Today was a day to get organized and re-familiarize ourselves with school life after a summer that went by too quickly. 
After opening bell, we began the day with chapel in the Fellowship Hall, with the school principal leading songs and giving encouragement to the students to dig into their work because work is good! Back in our classrooms, the younger students participated in various activities (including sign language and M&M's!) while the older students talked about lots of stuff. We got some work done, too!
First break came quickly: grades 1-3 played Kick The Cone, and grades 4-high school played Knockout on the basketball court, or played on the swings, or just sat visiting. Second period didn't last long, either, and then it was noon, time to dismiss! 
It looked like they didn't want to leave.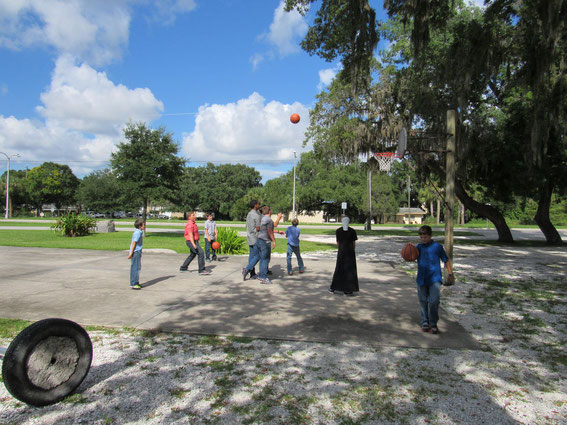 August 14, 2017  
Orientation!
The excitement is building! Last night the school house was full of bubbly students making cheerful sounds, bringing their school supplies into their classrooms and stowing them in their desks. Some students hurried outside to play games, while others hung out inside, talking and exploring.
Thanks to the school board, we all enjoyed amazing Ranch Pretzels and delicious Sherbet Punch, while visiting with friends we don't get to see every day. Also thanks to the school board, the kitchen and restrooms received a remodeling face-lift, and it looks great! Well done, school board, and thank you!
It was a good evening, and we are looking forward to a fantastic year!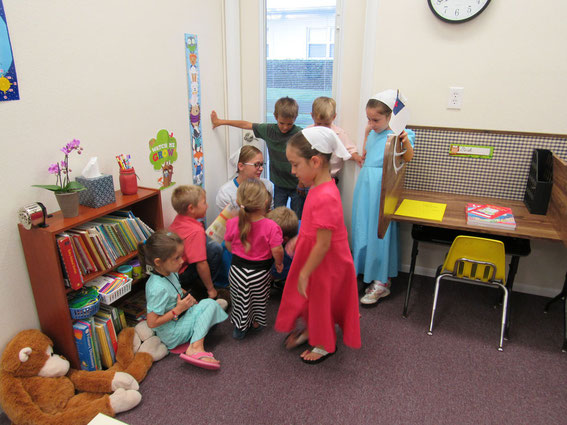 August 14, 2017
YEARBOOKS ARE HERE!
Only $10 each. Get a copy for every student - it's a book of memories!
These will be available at Orientation this evening.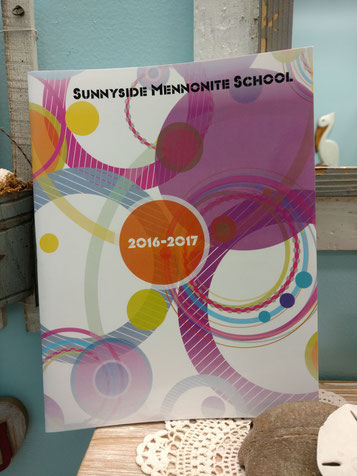 July 15, 2017
Thank you for showing up to work this morning!
The school house sparkles on the inside and looks fresh and new again on the outside. From ceiling to floor, windows, walls, and doors were washed and scrubbed, while on the playground trees were trimmed, flowerbeds and play areas mulched, and equipment repaired. Fueled with watermelon and granola bars, the work got done efficiently. Well done, people.
It won't be long until the whole campus will be ringing with the voices of happy children!