News, 2021 - 2022
December 22, 2021
The Christmas program went very well this evening. Miss Kate's students (Kindergarten) and Miss Kelli's students (grades 1-3) poured their hearts into their singing, and their energy was contagious. They did a wonderful job! They all remembered their poems and recited them clearly so everyone could understand.
The older students, grades 4-high school, also did an excellent job! They were poised and confident in their parts, and their singing was beautiful, too. You can see pictures here. Thanks to Miss Kayla C. for the photos!
Well done, students! Your hard work paid off, and you gave a first-rate program this evening! Now enjoy your vacation from school!
Merry Christmas!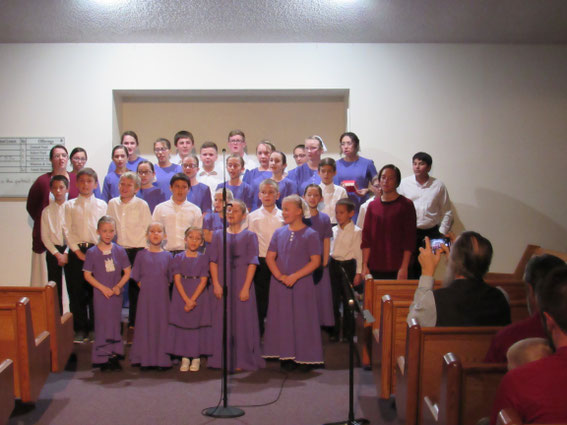 December 22, 2021
Christmas is in the air! Today was a special day at school! The students had fun parties with amazing food, ugly Christmas sweaters, and pajamas, too! After an early morning program practice session (which went amazingly well, by the way), we took care of some lessons and testing. About mid-morning, the work was done and the festivities began in earnest. The food and drinks were fantastic, and everyone had a great time!
You can see pictures and a video here.
See you at the program tonight!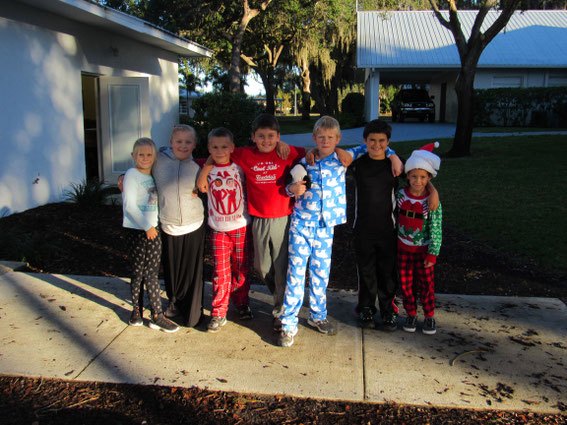 November 12, 2021
Science & Art was held this evening, and lots of creativity was on display! The students brought interesting and beautiful art projects, and fascinating science projects, too. It was obvious that lots of time and effort went into their work! The schoolhouse was filled with sounds of happy students and chattering parents, and the evening went by quickly.
The school board hosted a donation-based pizza supper complete with crudités, and ice cream treats for dessert. Guessing games were held for tubs of candy: the winners were Perry M., Macario G., Ruth B., and Destany D.
It was an enjoyable evening.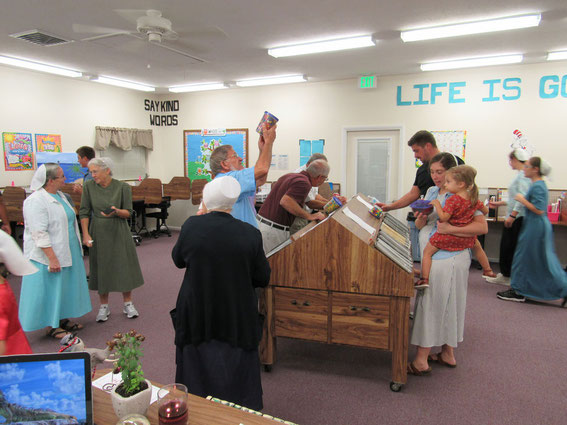 October 1, 2021
Today being National Hair Day and all, grades 4 - high school thought it would be appropriate to celebrate with Crazy Hair Day in our classroom.
You should have seen what they came up with! It was amazing! Such creativity! Such imagination! Such courage! Let's just say flowers, paint, glitter, and cake icing were involved. Yeah. The students had great fun with it, making it a day that they will probably never forget.
It really was something special.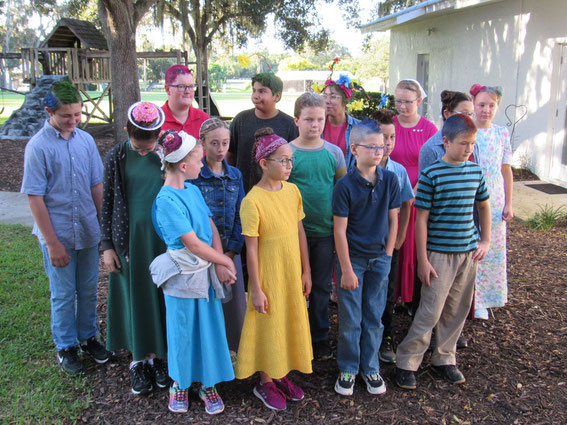 September 7, 2021
Today was a very big day for three of our students - it was the first day of Kindergarten! Hurray! Amaya H., Alayna K., and Susannah Y. showed up bright and early this morning, full of courage and nervous excitement. They trooped into their classroom where their teacher, Miss Kate, welcomed them with a warm smile. After putting things in their desks and stowing their backpacks, it was time to pose for pictures with mom and with Miss Kate.
Soon the bell rang, and the day began. Lots of fun things happened, like table games and playing outside on the swings and story-time and even a little bit of work! It was amazing! They have lots to learn, but they are off to a great start, and they are in good hands with Miss Kate.
Welcome to school, Kindergarten!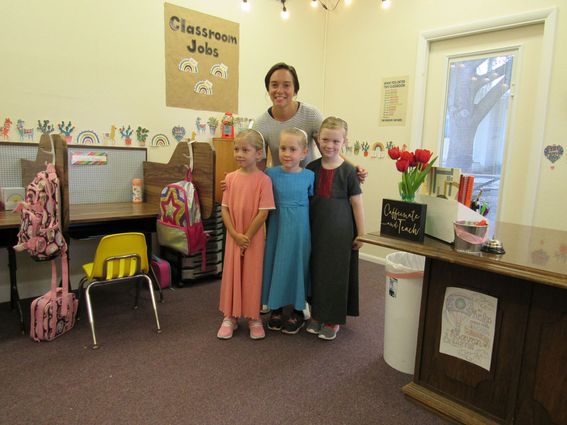 August 12, 2021
Parent-Teacher Orientation was a good evening for all, with students running around, parents visiting in the hall, and delicious tea and pretzels and cookies supplied by the school board. The classrooms were filled with laughter and chatter; thunder boomed outside, and the rain fell.
Kindergarten and grades 1-3 got to meet their new teachers, Miss Kate S. and Miss Kelli C. Their students really enjoyed spending time in their classrooms this evening, and we are confident that both of them will be excellent teachers this year!
Check out some photos here.
We are looking forward to a great school term. Blessings to you all!