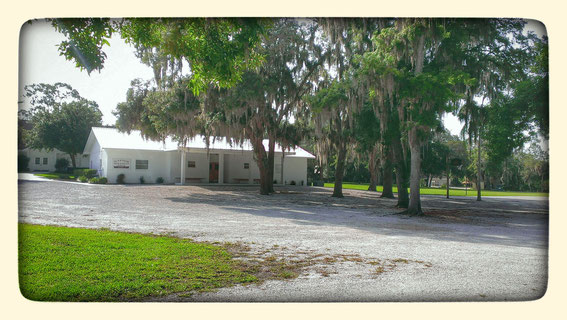 Welcome!
We hope you will find this site interesting, useful, and an easy way to keep up with everything that's happening at our school. Check back frequently for updates on current events and the latest news.
February 7, 2019
Today grades K-3 enjoyed a visit from the Sarasota County Sheriff's Department Mounted Patrol. Deputy Kelly arrived at 2:00, unloaded a table full of gear, and brought out her horse, Valor.
Valor stand just slightly over 16 hands, and is the Department's shortest horse. Deputy Kelly and Valor spent about 45 minutes with the students as she described her job, the care of her horse, and what it is like working on Mounted Patrol. She showed the students her gear, and some of them even got to try on the helmet. It was lots of fun petting Valor; she's a great horse. Thanks, Deputy Kelly!
January 9, 2019
Leroy Hershberger, story-teller extraordinaire, was our chapel speaker this morning.
A link to the video is below.
December 21, 2018
The Christmas Program is done! Our students did such a great job, and many people commented that they thought it may have been the best program ever! Well done, students!
Grades K-3 put on a four-scene play, complete with costumes and stage props. The shepherds, the wise men, the angels, Joseph and Mary - they all played their parts perfectly! Grades 4-high school presented every song in a language other than English, including French, Spanish, Polish, and Chinese. They did a super job, especially considering how difficult some of the languages were.
Now it's time for a break from school work, time for family and friends, time to remember our blessings, time to think about the Ultimate Gift: Jesus, born in Bethlehem, came to give Himself so that we could know God again.
May the blessings of Christmas be with you and your families. Peace!
Thanks to Yolanda C. for photography
November 15, 2018
Honor Roll students in grades 4-high school went on a field trip to tour Chris-Craft boat manufacturers. We arrived just before 9:30, and Matt met us at the door.
After welcoming us to Chris-Craft, he gave us a brief history of this 145-year-old company. We then followed him through the lobby and out into the manufacturing buildings, where we watched and learned about how boats are built. The hull is the outer portion below, the stringer is the middle section, and the deck is the upper section. They build around 400-450 boats every year, and are making plans to expand production soon. Their least expensive  boat sells for about $100,000 while their high-end boats go for about $700,000. They make and ship boats around the world.
After our tour of Chris-Craft was complete, we went to Chick-fil-A for lunch, then on to Colonial Oaks park. The students played for awhile until a party who had reserved the gym arrived, so we left and went to The Mall at UTC. This worked out well, considering the weather was a bit rainy this afternoon. We saved time at the end of the day for Slurpees at 7-Eleven.