News, 2009 - 2010
Following is a list of supplies for you to provide for your student. Try, as much as possible, to keep these items well stocked throughout the year.
  

Kindergarten
Crayola

Crayons (24 count)

Construction Paper

Drawing Paper (Doodling Paper)

Pencil Box

Scissors

Tissues

Glue

Kindergarten Mat

Small Blanket

Small Pillow

Markers (washable)

No Pens, Pencils or Erasers
   Grades 1st – 3rd
KJV Bible (Old & New Testament)

Good supply of Pencils & Erasers

Wide Ruled Notepaper

Drawing Pad

Construction Paper (1st Grade only)
Crayons

 

(24 count)

Markers (washable)

Scissors

12" Ruler (with Inches & Centimeters)

Glue

Tissues

Pens (optional)

Colored Pencils (24 count)

Pencil Box

Refuse Receptacle (Desk top)

Desktop trinkets to be kept at a minimum

Red and Green Ink Pens are Not allowed
   Grades 4th – 12th
KJV Bible (Old & New Testament)

Good supply of Pencils (or Eversharp with 6 +/- refill packs)

Erasers

Blue or Black Ink Pens

Colored Pencils (24 count)

12" Ruler (with Inches & Centimeters)

Note Paper

Optional Items: Pencil Box, Crayons

Desktop trinkets to be kept at a minimum

Red and Green Ink Pens are Not allowed
>>>>NEWS FLASH<<<<
May 31
The End has come. Since the closing program and awards ceremony is complete, the students have been enjoying their summer! Students, you worked hard through the school year, and you have earned a break.
We are all sorry to see Miss Rosita leave our school. She invested four years of first-rate, imaginative, passionate, uncompromising, high-quality teaching, and we appreciate the work she did here. She leaves behind a legacy of showing Christ-like character to her students and fellow staff.
In the Annual Fathers-vs.-Sons softball game, the fathers jumped out to an early lead, but the sons refused to give up, and eventually pulled to within two points. This was enough to salvage their self-respect and whet their appetite for next year. Fathers, this is your official warning.
>>>>NEWS FLASH<<<<
May 11
The Honor Roll Students enjoyed a Field Trip today, visiting the national manufacturing headquarters for Sun Hydraulics Corporation. They manufacture manifolds and cartridges for hydraulics applications, and the parts they make are shipped all over the world from Sarasota, including Korea, Germany, France, the UK, and of course, the USA.
The students were shown the entire manufacturing process, beginning with huge billets of aluminum blanks, which are cut into smaller pieces, then shaped, drilled, and tempered to meet different applications. Most of this was done with robots, which was fascinating to watch. They showed us machines that wash the parts, machines that apply a chemical bath, and machines that install o-rings, washers, and other small pieces.
After the tour, the students voted to eat lunch at Chic-fil-A. When our tummies were satisfied, we went to the gym for basketball, Team Two-Square, and a walk in the park.
You will be relieved to know that we saved a little time at the end of the day for Slurpees.
>>>>NEWS FLASH<<<<
May 7
Today's school activity was the end-of-year field trip to Busch Gardens, and what a day it was! Fun-filled, packed from end-to-end with rides, and liberally sprinkled with exotic animals, it was a day for thrill-seekers and nature-lovers alike.  
Among the most popular rides were  the Sheikra, the Log Flume, and the Tidal Wave. Of course, these rides all involved water somehow, so that either riders or spectators (or both) were soaked with generous doses of cool, refreshing water.
By riding the Skyride in cable cars, we were given an excellent birds-eye view of giraffes, zebras, musk oxen, texas longhorns, flamingos, and even a pair of rhinoceroses submerged in water.
One of the early shows of the day, Critter Castaway, involved lots of animals such as dogs, cats, parrots, a wallaby, an African crane, a vulture, two pigs, more dogs, some weird kind of bear, a skunk, a porcupine, and more dogs.
A lot of calories were burned today, but those were amply replenished at Hungry Howie's Pizza place in Ellenton. They took good care of us, and we demolished lots of pizza in a short time.
Then we went home.
>>>>NEWS FLASH<<<<
March 25
Track & Field Day was a big deal to forty-seven students, who gave every event their very best. Whether it was the Long Jump, the Basketball Free Throw, the 50 or 100 Yard Dash, Jump Rope, High Jump, or other events, our students really put their heart into it. Some seemed to enjoy performing for the crowd, while others felt nervous or embarrassed, but no one was a quitter. We are proud of them all.
Many times today students were heard telling their competitors things such as, "You can do it!" or "Good job!" or "Way to go!" and so on. They showed strength of character even when they were disappointed, and because of their excellent spirit, they made the day enjoyable and successful for everyone.
Lots of ribbons were won with hard work today, and lots of muscles will be sore tomorrow morning. Hopefully everyone will be fully recovered by Monday morning at 8:30! You can hardly wait, right? Right?
Enjoy your weekend!
>>>>NEWS FLASH<<<<
January 20
You are invited to the Third Annual School Fundraiser Banquet.
TIME: 6:00 pm
PLACE: Sunnyside Church Fellowship Hall
MENU: Come enjoy a fabulous, professionally-prepared gourmet dinner of BBQ pork, BBQ chicken, Grilled & Seasoned Baked Potato, Mrs. Mullett's Famous Cole Slaw, green beans with bacon, and strawberry shortcake with fresh strawberries! It will be the pleasure of the Sunnyside School students and Board to be your hosts. We guarantee you will enjoy your experience. 
PURPOSE: As a fundraiser, we appreciate your willingness to contribute to the needs of our church school. We are incredibly privileged to have a private school where our children are safe spiritually, academically, socially, and physically. These blessings are not without cost. Your donations will be accepted after the meal.
PRIORITY RATING: We know you're busy. That's why we've put so much effort into making this an exciting, enjoyable, and unforgettable evening of top-notch food and enjoyable fellowship. Be there. We promise you won't regret it.
Tickets are required. These are available from our Student Ticket Representatives, or come directly to the schoolhouse to get your tickets. Tickets are free, on a first-come first-served basis.
Drawings will be held during the evening, with valuable prizes being awarded. You must be present to win. Come have a fantastic, relaxing evening with Sunnyside school staff, students, and board members. We'll make it a memorable occasion for you!
>>>>NEWS FLASH<<<<
February 11
Our Third Annual Banquet was held last night with a capacity crowd attending. Every seat was reserved by ticketing, and many people were turned away for lack of space.
The food was delicious, as you might expect from the expert smoking and grilling of Alvin Zook. With inclement weather, he was concerned that it would affect his ability to get all the grilled foods prepared on time. God held the rain off long enough that we could enjoy Alvin's grilled, seasoned baked potatoes.
The school board spent hours setting up the hall and preparing the food in the kitchen, and it all turned out wonderfully. The students worked the room like pros, serving our guests drinks and desserts.
Thanks to all who participated in supporting our school. We are grateful.
>>>>NEWS FLASH<<<<
January 10
Dress-Up Day for Kindergarten - Third grades made for some strange sights around the school.
There were cowboys and indians, of course, but also an Indian from India, a beach girl, a pirate/undercover officer, a baker/chef, and a cleaning maid. Miss LaRhonda was the Indian in authentic Indian clothing; Miss Rosita was dressed in period clothing representing Laura Ingalls Wilder of Little House on the Prairie fame.
Want to see them?
>>>>NEWS FLASH<<<<
January 9
Today the Honor Students from grades 4 - high school enjoyed a tour of the world-famous Tervis Tumbler factory. They make the only air-insulated tumbler in the world that carries a life-time guarantee.
The Tervis Tumbler company manufactures their own product right here in Sarasota County, and we were shown the entire operation from product development,  manufacturing, and testing, to shipping and marketing. We watched them laser-cut logos and emblems for the tumblers, then we followed the process as they assembled the inner and outer pieces and welded the two together. The welding is done in a machine that vibrates the two pieces together at 25,000 vibrations per second; this takes about 4 or 5 seconds total. After welding, the tumblers go through an oven set at 835 degrees. Then they are inspected, boxed, and out the door they go.
Tervis Tumbler says they run two working shifts per day, and manufacture 28,000 to 40,000 tumblers per day. Laid end-to-end, each day's production would reach about four miles. They are nearly maxed out with production in this facility, so they are presently in the early stages of planning an expansion.
The best part of the tour? That would be when they gave each student a personalized tumbler. Tervis Tumbler prepared each student's name as a decal, and gave it to them along with a Tervis Tumbler emblem. Then, on the manufacturing floor, the students gave these items to an employee, who applied them to a tumbler. After application of the decals and emblems, each student was allowed to run the machine that welded their tumbler together. After the tumblers went through the oven, they were given their personalized Tervis Tumbler. Each student also was allowed to have their choice of two different lids and a straw to complete their personalized tumbler.
Each Tervis Tumbler has a Lifetime Unconditional Guarantee, so if your student's tumbler fails, return it to the Osprey store, and they will give you another one just like it, as a free replacement.
Sadly, they did not allow us to take any pictures on the tour, so we can't show you what the place looks like.
After the tour, we browsed the Tervis Tumbler retail store in Osprey. Afterward, the students voted to eat lunch at Chic-Fil-A, then we went to the Colonial Oaks Park gymnasium for basketball, Extreme Indoor Kick-ball, and Team Two-Square.
As required, the day ended with Slurpees.

>>>>NEWS FLASH<<<<
January 6
The first snow day of the year! A solid 32 degrees F in Sarasota, latitude 27.336.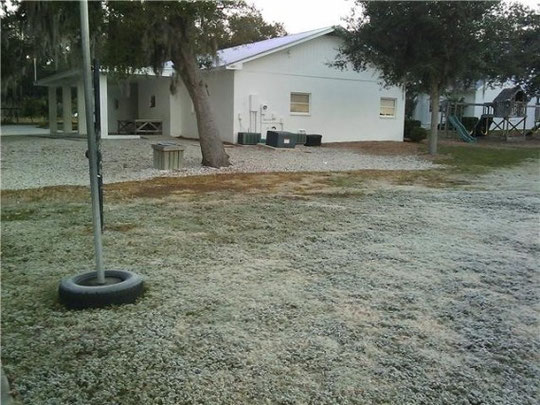 >>>>NEWS FLASH<<<<
December 18
A job well done! After hours of drills, practices, and reruns, the students did a great job in the Christmas program. It was good to see all their hard work pay off, and they certainly earned the compliments of the crowd!
Students, we honor you.
Now go enjoy your Christmas vacation, have a good time, rest, relax, recharge, and savor every minute... because January 4 will be here before you know it!
Merry Christmas!
>>>>NEWS FLASH<<<<
December 16
The Annual Christmas program will be Friday evening, December 18, at 7:30, right here on the Sunnyside campus. Bring your whole family, including grandpa and grandma, for an enjoyable time of singing, recitation, and story-telling.
Christmas vacation begins immediately after the program ends. School resumes on January 4, D.V.
See you then!
>>>>NEWS FLASH<<<<
November 12
The Honor Roll Students visited Agape Flights in Venice Tuesday morning. They were given a grand tour of the entire place, starting with the front office, upstairs to the administrative offices, then down to the hangar floor where they got up close and personal with several small aircraft. 
Tuesday was loading day: they had pallets of boxes filled with goods, waiting to be carefully packed for flying to missionaries in Haiti, the Dominican Republic, and the Bahamas. Agape Flights serves over 300 missionaries in those countries. Their cargo includes everything from engine parts to goats to Thanksgiving turkey dinners.
Their airplane is a mid-1960's model, which they completely reconditioned from the landing gear to the communications gear and the exterior paint. The aircraft's FAA identification number is N316AF, which they chose to represent John 3:16 Agape Flights. It was a very interesting visit; they told us stories about how God has provided for them, even when their former aircraft lost engine power and was ditched in the open ocean. Private pilots volunteered their services, and the flights to supply missionaries continued.
Perhaps someday some of your students will fly for Agape Flights. Think about it.
Afterward, we had a little time left, so we hopped over to the world-famous Venice Pier at Sharky's Restaurant. There we got to chat with people fishing, and enjoy the splendid view of the Gulf of Mexico. For lunch the students voted to eat at McDonald's; then it was on to the Colonial Oaks gym for Extreme Kickball, Team Two-Square, and general fun. We finished the day with Slurpees.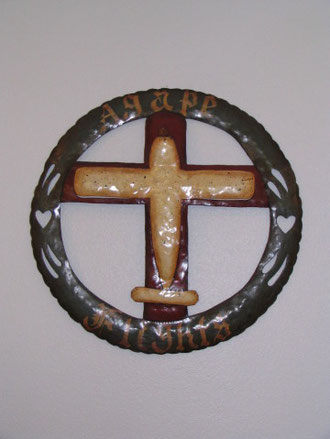 >>>>NEWS FLASH<<<<
October 5
Picture Day is coming up rather quickly: are you ready? Picture Day is planned for October 22, beginning in the morning after chapel.
The background is hanging on the wall in Mr. Jason's class room, if you would like to see it. It is a rich, majestic, milk-chocolate brown, with racing streamers curving gracefully through it.
You will like it.
>>>>NEWS FLASH<<<<
September 30
The Honor Students went to Chris Craft's boat manufacturing world headquarters today for the Field Trip.
After we arrived there, Lori at the front desk introduced us to Jim, who took us on a full tour of their facilities. Inside the main lobby, we got to see a 1929 model solid-wood cruiser. She was beautiful. Then we went out the door to watch a couple of workers pull a hull off a mold. As we watched, they drilled holes in the hull and pumped compressed air into the void, to break the vacuum so they could separate the hull from the mold.
From there, we were able to watch them apply layers of resin and fiberglass in a process they use to strategically strengthen the hull. The next stop was to the paint room, where another worker was diligently stirring a barrel of brown paint to apply to a boat cabin. We also visited the sewing room, where they hand-stitch the upholstery for their water craft.
After we inspected the painting process, we went to another building and followed a catwalk above the main assembly floor. There we saw workers installing engines, piecing together instrument panels, applying teak decks, and putting on the finishing touches. Before the boats are shrink-wrapped for transport world-wide (recent orders came from Hong Kong and Finland), they are taken out to their private pond beside the driveway, where each boat is tested for quality control purposes. Our hosts were very kind, and each of us was given a Chris Craft hat - yay!
With some time left before lunch, we went to Island Park, visiting the Dolphin Fountain, swinging, skipping stones, climbing trees, and generally being glad we were not working on a math test.
After a complicated voting process, the students decided on Taco Bell for lunch, where Kathleen had a sign-language conversation with a gentleman at the next table. She explained to him that no, we are not one family; we are a school group. After that we played at the Colonial Oaks Park until it was Slurpee Time.
>>>>NEWS FLASH<<<<
September 25
Sgt Laster and Liberty of the Sarasota County Sheriff's Dept. Mounted Patrol Unit visited our school yesterday afternoon. They gave us a presentation on methods of crowd control, traffic regulation, and farrier work.
Sgt Laster showed us several pieces of equipment used in mounted patrol police work, such as the riding helmet, special bit and bridle, gas mask, and radar gun. He also showed us the tools he uses in his work as the Patrol Unit's farrier, then he introduced everyone to his partner, Liberty. She stands about 16 hands tall (almost six feet) and is a beautiful bay.
Shortly after 3:00, Sgt Laster received a call on his radio that help was needed at a shooting just a half-mile away. He quickly loaded Liberty into the trailer, while several students loaded the equipment and display posters. Within minutes, he was at the scene of the crime, helping to make our community safer.
Thank you, Sgt Laster and Liberty, for the time you spent with us, and for the work you do for all of us.
>>>>NEWS FLASH<<<<
September 24
Accelerated Christian Education has awarded Sunnyside Mennonite School their official Quality Status recognition for the 2008-2009 term. In the letter they sent us, they said, "It is an honor to recognize and commend your dedication and commitment to spiritual and academic excellence in Christian education."
The A.C.E. representative for our region, Timothy Smith, was here yesterday and did a thorough review and inspection of our classroom procedures. During the hour and a half he was here, he answered flags, gave a spelling test, and observed our classroom procedures. He was pleased with what he saw, and even told Mr. Jason that Sunnyside School is "definitely in the top 10%" of A.C.E. schools in the nation. Mr. Smith himself sees well over 400 schools each year, so he has quite a lot of exposure to christian schools. He says we are doing a great job.
To the students in grades four through high school, this is a feather in your hat. The A.C.E. Quality Status Award is a credit to your diligence and the rigorous academic standards to which you hold yourselves. You are doing fantastic work!
Congratulations!
>>>>NEWS FLASH<<<<
September 8
Kindergarten students arrived this morning for their very first day of school! A little nervous, a lot excited, they marched in carrying new lunchboxes and backpacks, ready to take on the world! And they did, too. Moms and Dads escorted them through the doors, where they were welcomed by their teacher and friends. Today was one small step for their feet, but one huge step for their lives. We wish them the best!
Here they are, in all their winsome innocence: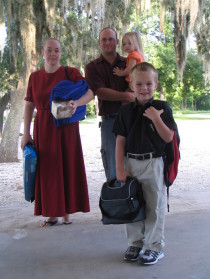 Mr. Darwin H., Kindergartner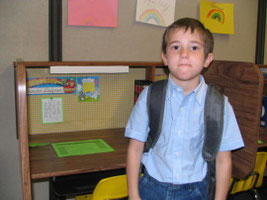 Mr. Brandon S., Kindergartner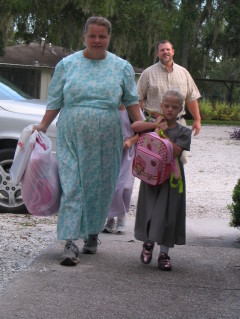 Miss Emily D., Kindergartner
>>>>NEWS FLASH<<<<
August 31
The first week of school is behind us successfully. Both students and teachers are beginning to settle in to the routine, and the initial nervousness that some of the students faced is fading fast. This year's students are showing themselves to be diligent and persistent. We are looking forward to a great year together!
The Sarasota County Sheriff's Department Mounted Patrol Unit will be coming to our school on September 24, God willing. They will discuss safety with the students, and show off their horses and the equipment they use. This will begin at 2:00 and end at 3:00. Parents are invited to join us for this special event.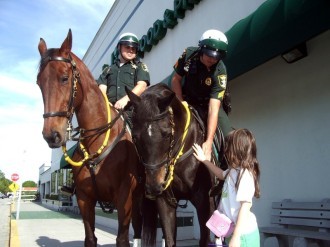 >>>>NEWS FLASH<<<<
August 13
The new school year is near!  Hooray!
School opens on Monday, August 24. The first day of school will dismiss at 2:00, so pack a lunch.
You are invited to come to the school for Orientation on the evening of August 21. Parents and students, here is your opportunity to meet the teachers and other students before the big First Day of School.
Also, on the evening of Orientation we hope to have the SMS Memories school yearbook available. These can be taken home with you for only $10.00 per copy. Of course, each child will need their own copy (think of the memories with their children twenty years from now!), and grandpa and grandma would like to browse the pictures of their wonderful grandchildren, so they will need a copy, too. Right?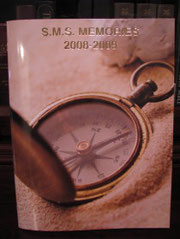 Orientation begins at 7:00, and is open until 8:30. Come and bring your students to see their classrooms and meet their friends and teachers.
See you there!
>>>>NEWS FLASH<<<<
June 30
We hope everyone is enjoying their summer! Different schedules, a change of pace, maybe even some time away... make this a summer of good memories.
The work of the school goes on. Files are being updated and preparations are being made for the rush of your energetic students, who can hardly wait to enter these hallowed doors again.
Your school yearbook has been sent to the printer, and they promise they will have the finished copies back to us promptly. You're going to need a copy for each student in your family, so make plans now to be ready when it arrives. We hope to remind you in plenty of time when the yearbooks will be available.
Please pray for the work of the school, as the Board continues the summer planning process. We need God's blessing and control for all the decisions that are being made.