News, 2019 - 2020
March 18, 2020
Today our governor, Ron DeSantis, closed all schools, both public and private, because of COVID-19. The governor's office originally suggested that schools might be re-opening after April 15. Alas, this was not to be. April 15 came and went, and Florida schools remain closed for the remainder of the year. Public schools are attempting distance learning using group video streaming, while private schools are using a variety of approaches. Either way, the general consensus is that the rest of the year's education is subject to a do-the-best-you-can-under-the-circumstances mind-set, and some things are being eliminated completely, such as annual spring achievement testing and group graduation ceremonies. What a mess.
Thank you for your cheerful flexibility, patience, and understanding in working through this upside-down time, while no one really knows what's going to happen or how this will all end.
We hope school can resume normally in the fall! Be well, everyone, and have a great summer!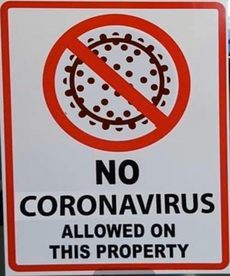 January 28, 2020
Today was a beautiful day for a field trip. Your Honor Roll students toured the Sarasota County Access 19 studio this morning. Before our ten o'clock appointment, we went on an adventurous walk through the woods behind Pinecraft Park, where we found oranges, moss beds, and a sword.
We arrived downtown just in time to take a group photo, before being welcomed into the secure facility by our tour guide, Seth, and Steve, government photographer. While clearing security in the reception area, our primary contact, Jamie, joined us. Seth and Jamie did a great job showing us the conference room where our county commissioners meet, along with the media office where all the cameras are controlled.
From there, we went up to the third floor, where we saw the control room for the main media recording center. With a green screen and a stage with a desk, the students had a great time testing their camera skills. It was fun seeing how a green screen can be used to put a person into a completely different environment on screen for recording video. With a snack of popcorn, and some cool swag (including sunglasses, cooling micro-fiber neckerchiefs, and lip balm+sun block), the students really enjoyed the tour.
After voting on Chick-fil-A for lunch, we headed out to the extreme end of South Lido, to walk the trails out to Sandy Point. The students spotted several raccoons, a snake, and even some tourists in kayaks. We drove through Five Points on the way to 7 Eleven, where the students finished their day with Slurpees.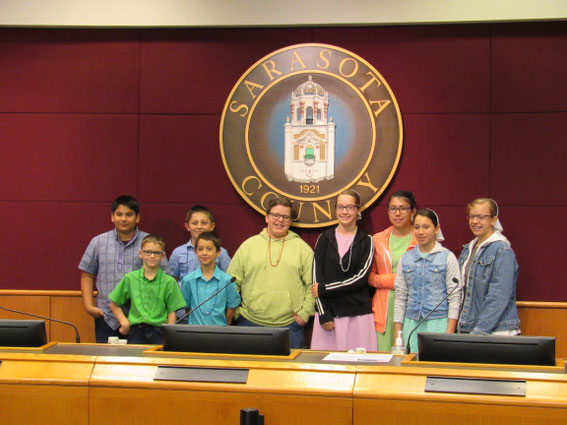 December 20, 2019
Our students did a wonderful job in the Christmas program this evening. Miss Kayla's students sang out clear and strong, with happy faces. The older students' hard work paid off; their recitations and their singing went very well, even on the difficult songs. Good work, students!
Click here to see pictures of the program. Thanks to Judson G. for the photography.
We hope you have a great vacation from school, a wonderful Christmas, and a safe and happy New Year!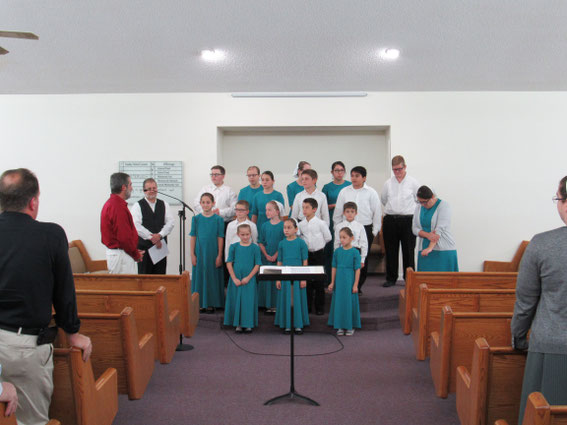 October 25, 2019
Science & Art was full of creativity this evening! Amazing science projects and fantastic artworks were on display, all by students' hard work and creative energies. The classrooms were full of happy sounds, busy students, and chatting parents.
Thanks to the school board, we enjoyed a pizza supper which was excellent - and with ice cream treats for dessert, everyone was very satisfied.
Well done with your projects, students!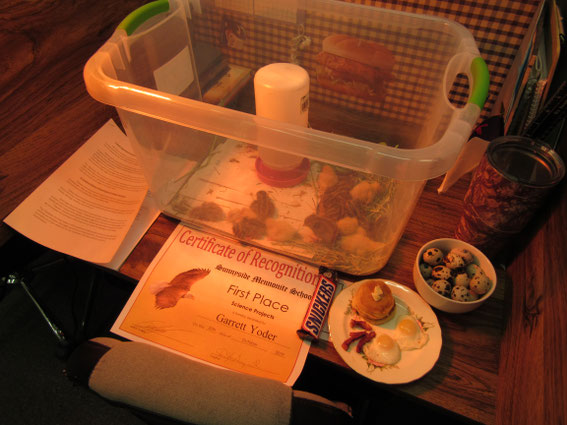 October 8, 2019
Your Honor Roll students toured the Cortez Coast Guard facility this morning! Whitney, a coxswain, welcomed us and walked us through the offices. Upstairs, the guardsman on duty tested the siren for us; this calls all hands to report for an emergency call. Outside, we walked the dock and visited their two active boats. Unfortunately, the boats were both being serviced, so we were not able to board them.
There are approximately 30 full-time Coast Guardies working there, and they cover territory spanning from the middle of Tampa Bay south to Boca Grand pass. Whitney has been posted to several places around the world, and has worked here at the Cortez station for just over three years.
After the tour, we walked the boardwalk at Neal Preserve, and enjoyed the outlook tower. The students chose McDonald's for lunch, and our last destination for the day was DeSoto Memorial Park. There we saw manatees and dolphins, crabs, a snake, and even a croc! It was great. In the gift shop we watched a 22-minute historical video explaining Hernando de Soto's explorations. All things considered, it was a good day.